moreStereo3D
The universal 3D Stereo Plugin
The moreStereo3D software is the most versatile stereo generation software on the market. It gives users the ability to show major 3D applications in vivid 3D stereo. Seeing a virtual environment or product so real that you want to touch it is a key advantage for critical engineering reviews as well as for exciting customer presentations. Simply enable the 3D Stereo Plugin moreStereo3D and benefit from the spatial visualization.
Highlights
Shows major 3D applications in 3D stereo
Seamlessly integrates into exisiting environments
Ideal for Architecture, Planning, CAD, Simulation
High End customer 3D-presentations
Connects to all 3D-Displays, -TV's or -projectors
Platform: Windows 7, 8, 10, 11 32/64-bit
8K 7.680 x 4.320 compatible
Works like a Plugin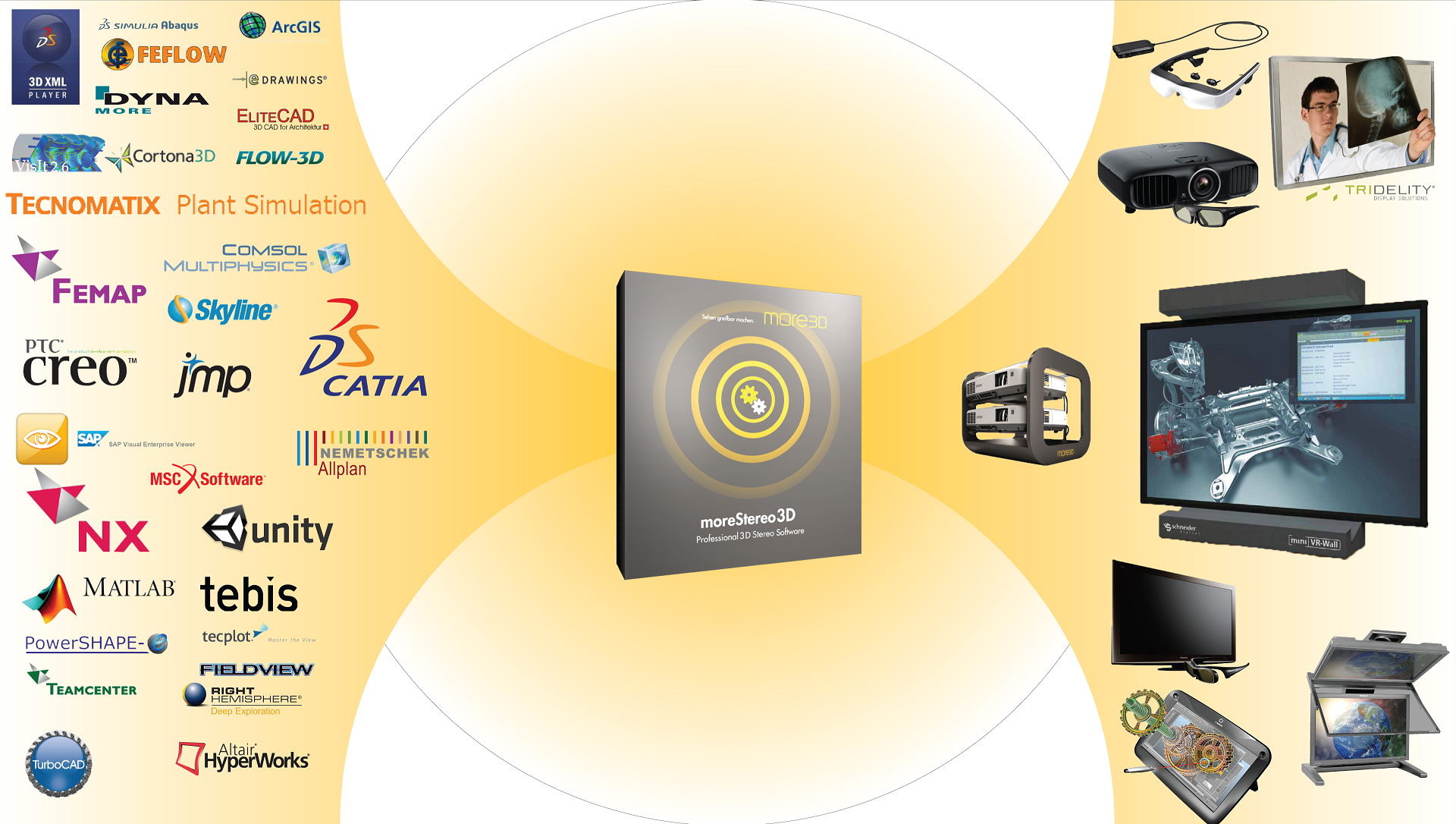 Shows major 3D applications in 3D Stereo
From kitchen planning software on regular PC's to CAD on professional 64 Bit Workstations – no matter what application you are using – moreStereo 3D will turn it into 3D stereo in an instant. Unlike "3D gaming drivers", moreStereo 3D is targeted to professional users who require 3D stereo from within the application, full control of the 3D stereo effect and advanced features for virtual reality projections.
Ideal for Architecture, Planning, CAD/CAM, VR or Simulation
The key benefit of moreStereo3D is that you will not have to change the software you like to work with. moreStereo3D is designed to work like a 3D Stereo Plugin for your software. No import-export hassles to worry about. Anyone working with 3D software from kitchen planning, architecture, CAD/CAM packages to simulation will instantly benefit from an additional life-like 3D-stereo output. Quickly check engineering models in 3D stereo on your laptop or put real estate customers in their new virtual home – anything is possible. Download a trial version today and see how moreStereo3D works in your application.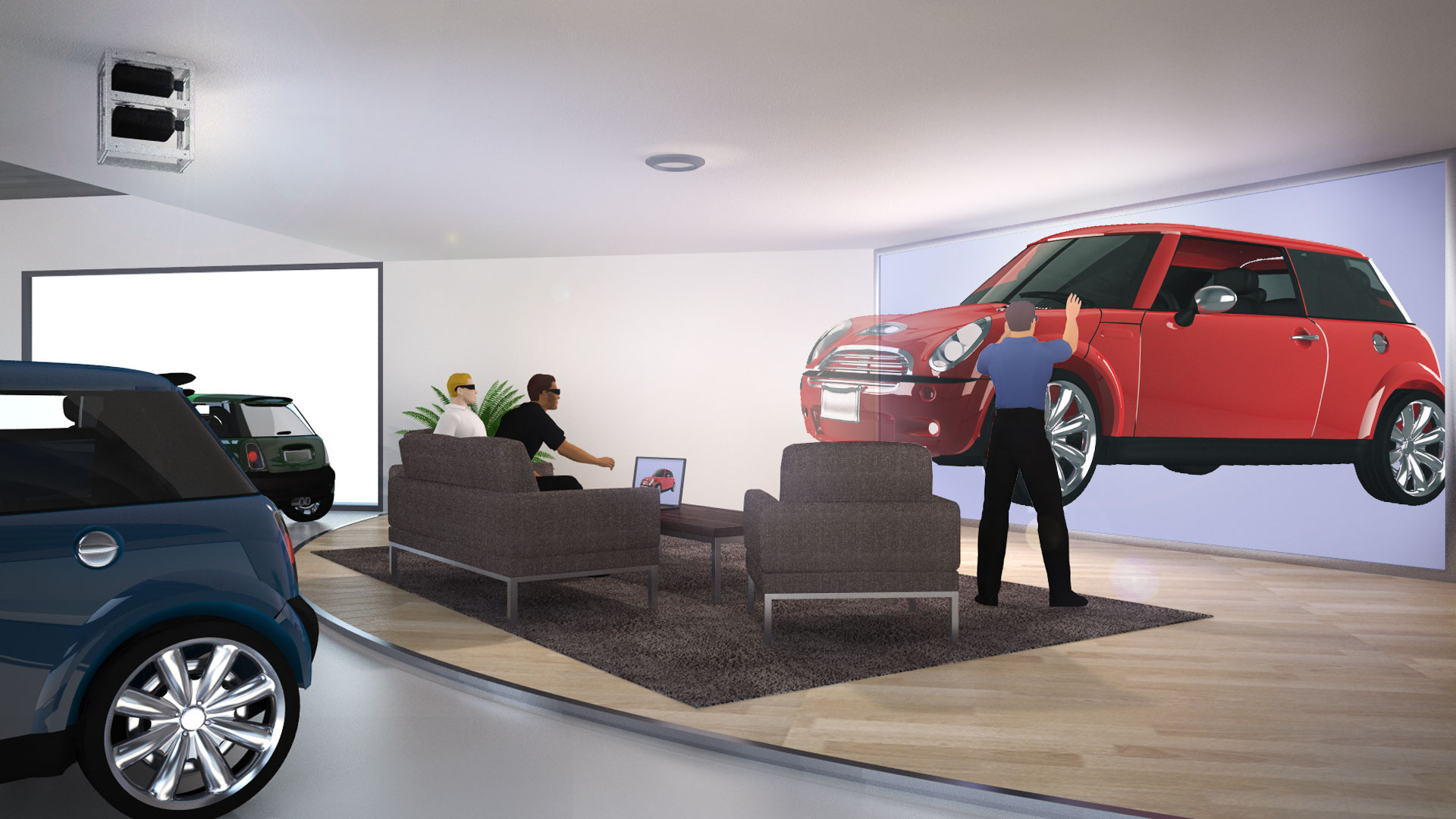 Allows for engineering and customer 3D-presentations
We have built in a unique "3D to full screen mode" into moreStereo3D. This mode is perfect for customer presentations. It allows users to work in their 3D environment, such as CAD/CAM, planning or simulation applications while only the "good looking" 3D output is converted to 3D stereo and played on a separate 3D display, power wall or stereo projection. Even a quick 3D stereo glance at the 3D model you are working in on e.g. on a laptop is done in an instant.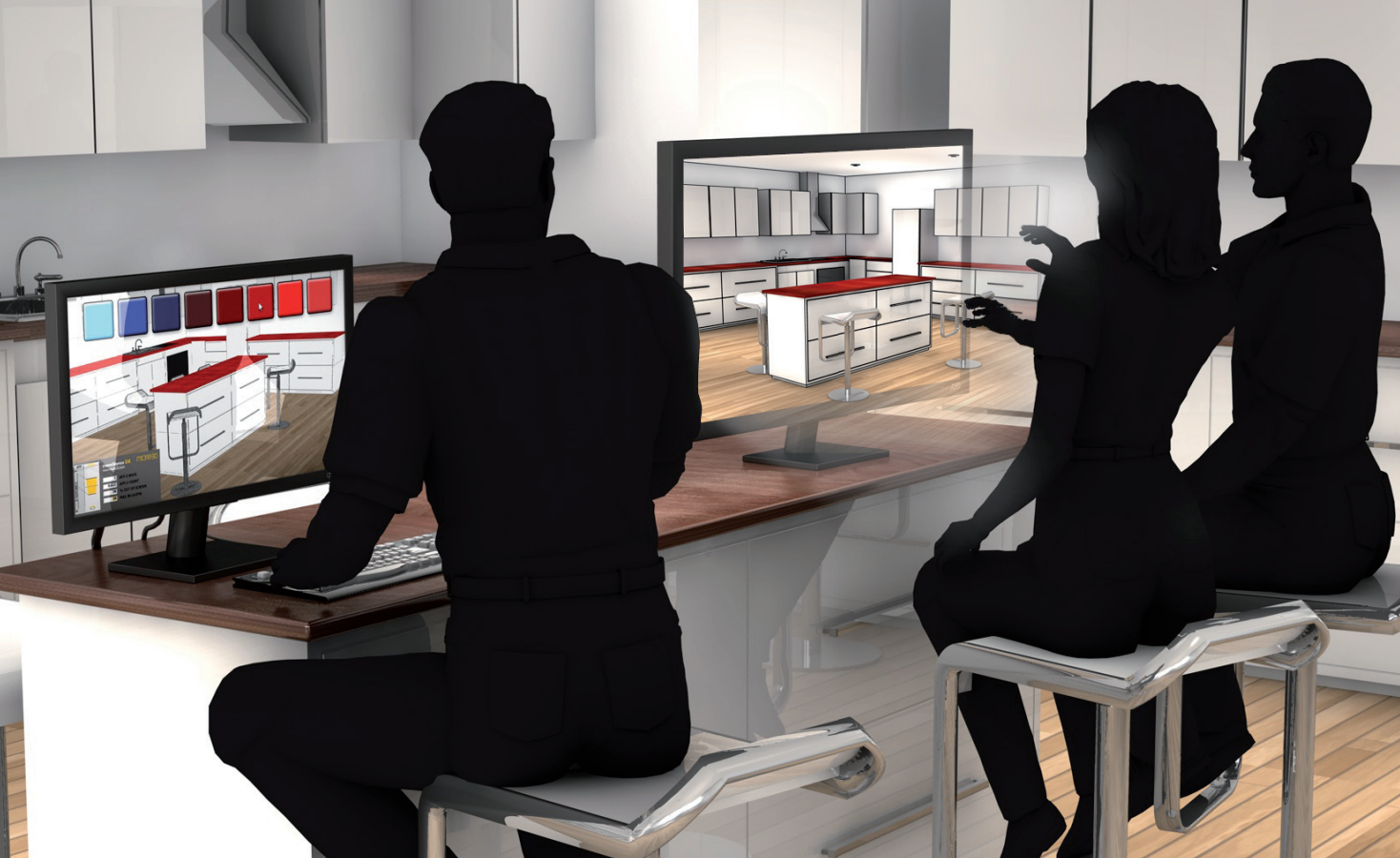 Connects to all 3D-Displays, -TV's or -projectors
moreStereo 3D supports a large number of stereoscopic output devices to fit every budget and viewing environment. From 3D in a laptop to 27" 3D desktop displays, 65" 3D TV's or active or passive stereo projection, including INFITEC and polarized – everything is possible. Even many autostereoscopic monitors with no need for 3D glasses are supported. New monitors may be added easily through our openASD display definition standard. There is no more versatile 3D stereo software on the market. The moreStereo3D 3D Stereo Plugin creates output for nearly every 3D capable device – and new output modes are added regulary.
Professional established platform: Windows 7, 8, 10 and 11
Most of our clients have their professional applications run on well established software platforms, such as Windows 10 32/64Bit. We cater to that need and will continue to support these platforms. At the same time our QA team assures the compatibility to the newest updates of new Windows versions. The licensing model fits many corporate needs from single licenses to volume or site licenses and makes it an ideal addon to instantly enhance your digital life.

What's new in moreStereo3D V7?
The new moreStereo3D Premium gives our customers the ability to create vivid 3D stereo on professional plattforms, become independent of a specific graphics board manufacturer and output 3D on more 3D devices than ever before.
more Compatible
Targeted to the professional markets the new moreStereo3D Premium adds a feature that has been requested for months. With support for Windows 7, 8, 10 and 11 64-Bit editions it can now run on current workstations. Direct 3D and OpenGL applications are converted in realtime into true 3D stereo. The 3D output graphics can now be sent to the majority 3D compatible devices as secondary screen. Furthermore moreStereo3D now provides 3D Stereo presets to ensure your applications look great in 3D and the stereoscopic effect is well adjusted.
more Independent
System integrators will appreciate the new graphics board independence – moreStereo3D will now run on any graphics board that is powerful enough to create two (or more) perspectives instead of one. The minimum requirement is support for OpenGL 1.5 and Direct-X 9.0c. We recommend professional grade graphics cards for OpenGL based applications and gaming grade graphics cards for Direct 3D based applications.
more3D recommends AMD Radeon Pro Series and Nvidia Quadro Series.
more Versatile
We have added more stereoscopic output features to enable the "3D to full screen mode" which is great for customer presentations. It allows users to work in their 3D environment, such as CAD/CAM, planning or simulation applications while only the "good looking" 3D output is converted to stereoscopic 3D and played on a seperate 3D stereo display, powerwall or stereo projection.
As a bonus we support many autostereoscopic displays requiring more than 2 perspectives. More devices can be easily added by display manufacturers using our openASD editor. This makes adding a 3D display as your second 3D only display a breeze!
Features
Garphical control panel for stereo effect adjustment
Stereo effect settings are saved per application
3D Stereo presets for many applications
Generate 3D stereo screenshots with one button
Supports applications with multiple 3D viewports
Autofocus for OpenGL
Test Screen Generator for easy projector alignment
Switch stereo effect on and off with one button
Runs just like a 3D stereo driver in the background
Hotkeys for stereo toggle, control panel, test screen
Many supported output devices (see at bottom)
The Controlpanel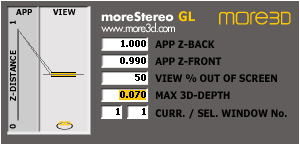 The Control Panel controls the position and strength of the 3D effect generated by the 3D Stereo Plugin
Z-Back
Maximum 3D effect for objects behind Z-Back
% out of screen
Amount of scene that appears out of screen
Z-Front
Maximum 3D effect for objects in front of Z-Front
Max 3D-Depth
Overall strength of the 3D stereo effect
Current / Selected Window No
Lets you select the OpenGL Window to convert to Stereo3D
Autofocus
Enable or disable automatic adjustment of Z-Front and Z-Back
System Requirements
Windows Operating System
fast graphics board with at least Pixel Shader 2.0 support
For OpenGL: Nvidia Quadro or AMD Radeon Pro recommended
Operating Systems
Windows 7 32 & 64-bit
Windows 8 32 & 64-bit
Windows 10 32 & 64-bit
Windows 11 64-bit
How does it work?
See our Youtube Channel for the latest tutorials and how-to's.
See our FAQ for frequently asked questions.
Do not hesitate to contact us for technical support via the contact form or email: support@more3d.com