It's possible that the geometry is there, but is mislocated, it might be behind, below or above the user.
If you're encountering that only parts of the geometry are missing, swich to reading this article.
This usually happens when the HMD room calibration needs to be updated.
By default, moreViz mirrors the host applications camera position.
This default camera position relies on having a proper calibration of the tracking system.
If the tracking system's room calibration is not correct, objects might appear anywhere around the user, e.g. below or above, maybe even behind the user. Take a good look around in all directions. And then: perform a proper room calibration to have geometry appear right in front of your usual front facing direction.
Another possible reason is that the Base units of the 3D model / app are set incorrectly or the "Scale:Smaller" function has been used too much.
---
Possible reasons / solutions:
Run the SteamVR room calibration. Alternatively, the Oculus Calibration or Mixed Reality Calibration.
Here's a very good SteamVR room scale calibration tutorial by "The tech basement" (All credit for the video goes to the tech basement):
Here's a quick video for Windows Mixed Reality Devices by MRTV – Mixed Reality TV (All credit for the video goes to MRTV):
Here's a quick tutorial for Oculus by Meta Quest (All credit for the video goes to Meta Quest):
After applying a correct calibration, restart the moreViz client and your host application. Geometry should now be mirrored 1:1 from the host application's camera position. To come back to the default position, open the in-VR menu and select Reset:Position and pull the main trigger on the VR controller.
---
Users of professional tracking systems such as ART, Optitrack, etc, please calibrate your tracking system as follows:
---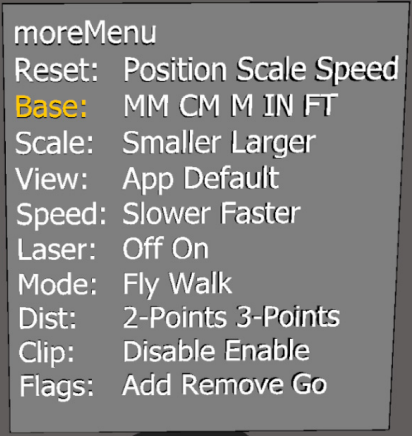 Some apps use different scales for the 3D Geometry.
Applications can handle object size internally in very many different scales, e.g. millimeter, centimeters, etc.
By default moreViz uses a preset for fixed base unit scale applications.
For dynamically scaling and/or unknown applications moreViz uses by default an automated scaling mode which creates a good immersion effect.
If your geometry is invisible, even after looking around in the VR space.