The complete 3D projection solution for every situation.
As a 2D or 3D integral system in your office, the morePheus³ overlooks your entire audience and so elegantly prevents shadows and enhances every presentation room with its fashionable design.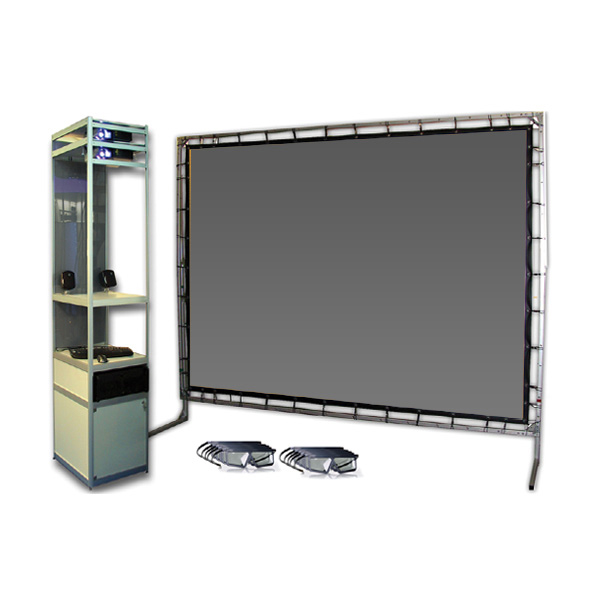 Highlights
Complete system for immediate operational readiness in 2D and 3D
Lockable boxes and hidden cable routing
Arbitrary 3D filter-system (polarization linear/circular, INFITEC)
Premium-quality sound system ensures rich sound
Ready to use 3D with screen, PC and software
Modular, expandable rack-system
Optional Tracking System by Advanced Realtime Tracking
With permanent readiness for use and continuous quality the morePheus³ enables the full utilization of large-sized projection surfaces, due to its height and extreme bearing load. The projectors of this complete 3D system can be attached variably up to a height of 2,52m.
The morePheus³ is a standing projection system in an ageless design, which provides secure safekeeping for all technical components, including the audio system, by integrated lockable boxes. The cable routing is arranged in such an ingenious way, that all cable connections are running invisibly within the system. The morePheus³ can be accommodated to your personal corporate design by its modular and color-changeable architecture.
The morePheus³ includes the rack, together with polarization filters and -glasses, two projectors, a high-performance PC with a gyroscopic wireless mouse/keyboard and a sound system.
The morePheus³ can be used as a front projection system and with an optional additional screen as well as a rear projection system.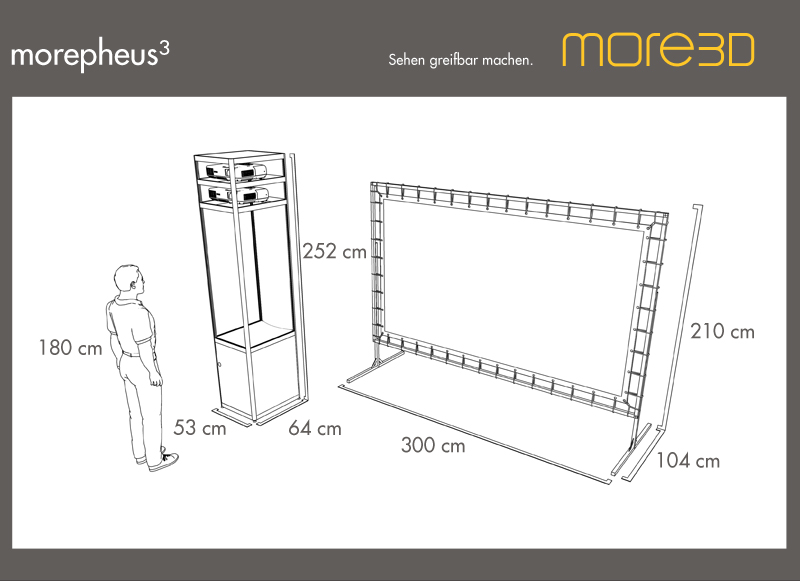 The morePheus³ bundles perfectly with more3D's stereo 3D and virtual reality software packages:
moreStereo3D – the universal 3D Stereo plugin directly injects stereoscopic 3D into many certified applications
moreViz – the Virtual Reality bridge software mirrors your applications viewport directly in Virtual Reality for over 35 certified applications